The need for medical care and health education pervades both developing nations and the lower socioeconomic populations of rich countries.

This need is often magnified by natural disasters as larger health and relief organizations struggle to meet the needs of only the most acutely affected populations or begin to withdraw after the immediate crisis has subsided.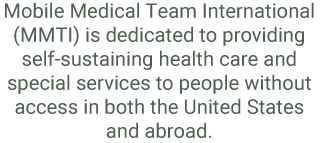 MMTI strives to develop health care programs, centers, and educational programs using innovative and proven methodologies while simultaneously incorporating and melding with local customs and cultures.

There are three programs: International, USA, and Digital Tools. Click here for more about Dr. Shaikh.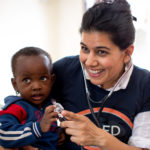 Through Dr. Shaikh's vision and leadership, Mobile Medical Team International has a radically collaborative culture that scaled to deliver medical help and education on four continents. Dr. Shaikh, the leadership team, and the board are exclusively focused on building health services and tools for those who serve underserved populations. MMTI's tools and programs scaled to 2 million users just the past 3 years.
MMTI projects are typically "first of their kind" to meet a critical need.
In the USA, the Blossom project was the first in the area to introduce a standardized trauma recovery program for children under the age of 5.

In the Digital Tools program, the Diffusion learning games were the first mobile health education games designed and delivered, at scale, to the developing world.

Also in the Digital Tools program, the Prism project will be the first to provide real-time, global transparency to disaster relief funds for health. At present, there are no tools to automate — and fractionate by service type — the flow of funds for health from the donor to the recipient in real time.

Part of the growth of MMTI is fueled by strong partnership with global business and service providers which provide both scale and sustainability. By partnering each project with government and private for and not for profit organizations, MMTI now has a history of over a decade of sustainability and quality.
Global partners include Facebook (Internet.org), Intuit (Quickbooks), and Rotary International.

US-based projects pull from diverse revenue sources — city, county, state and federal contracts — to create financially sustainable programs that do not require input of donations or stimulus funds.

Dr. Shaikh speaks across the world on effective health interventions and the need to employ technology for change. She actively participates in and leverages the network at Rotary International.  Thanks to her leadership, MMTI has grown between 30% and 50% each year in operating budget since 2006.